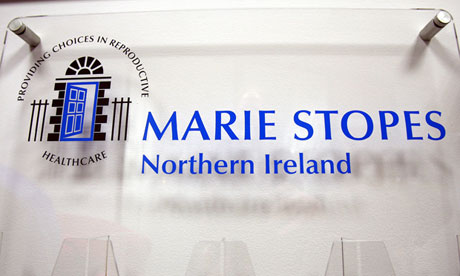 The pro-life movement in Northern Ireland has welcomed the news that the Justice Committee in the Province's devolved government is to launch an investigation into the operations of
the Marie Stopes International (MSI) abortion facility
which opened amid protests in Belfast on Thursday 18 October. The arrival of MSI has caused widespread public concern that laws protecting children before birth will be overturned.
Liam Gibson, SPUC's Northern Ireland development officer
, told the media earlier today that the Northern Ireland Assembly has no choice but to act against the direct challenge to the law presented by MSI:
"Abortion is not health care and in Northern Ireland it is a criminal offence. The Parliament of Northern Ireland rejected the British Abortion Act in 1967 and for the last 45 years the majority of the people and politicians have continued to oppose the liberalisation of our abortion laws. Through the long years of direct rule from London only the force of public opinion stopped successive British governments from imposing the Abortion Act on the Province. The last attempt to introduce it, in 2008 came only months before criminal justice powers were returned to local politicians. It failed because of the pressure brought to bear on the Prime Minister in London."
Pro-life campaigners are calling on members of the public to lobby their elected representatives to urge them to take all the necessary steps to ensure that Marie Stopes is unable to maintain its abortion centre in Belfast.
Liam Gibson continued:
"Public opinion must demand action to shut this centre down. There is too much evidence of Marie Stopes's involvement in illegal abortions in other countries for claims that the Belfast centre will operate inside the law to hold any credibility.

This is probably the greatest threat against the right to life of Northern Ireland's unborn children. We need everyone to raise this issue with their politicians, in their churches and among their families and friends. The financial resources available to MSI are enormous; but the pro-life people of Northern Ireland have fought long against the threat of liberal abortion. They worked too hard for the return of accountable democracy to see our laws and our devolved institutions swept aside by the abortion industry. I believe Marie Stopes have underestimated the level of opposition it faces from the people of Northern Ireland."
Comments on this blog? Email them to
johnsmeaton@spuc.org.uk
Sign up
for alerts to new blog-posts and/or for SPUC's other email services
Follow
SPUC on Twitter
Like
SPUC's Facebook Page
Please
support
SPUC.
Please donate
,
join
, and/or
leave a legacy