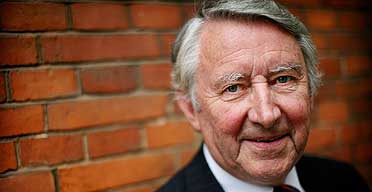 Lord Steel of Aikwood
Paul Lennon, SPUC's adviser on parliamentary affairs has reminded the Society this morning: "It is 50 years ago today that David Steel made the fateful decision to sponsor a Bill to make abortion more easily available".
In 2015, under Steel's tragic legislation, 509 babies were killed every single day in England and Wales alone.
Paul Lennon explains: "Having won third place in the Private Members' ballot on 12 May, David Steel pondered on what Bill to introduce. He has said that he would initially have liked to have sponsored a Bill to create a Scottish Border development authority but the Government made it clear that they were opposed to this and Steel realised that it would have probably have been defeated on Second Reading.
"The pro-abortion Home Secretary Roy Jenkins, suggested to Steel that he might wish to consider introducing the Sexual Offences Bill (to legalise homosexuality in England and Wales), which had just passed the House of Lords, or a Bill on abortion. (See John Campbell's biography
Roy Jenkins A Well-Rounded Life
, page 294 [2014])
"Steel apparently decided to take abortion because the Sexual Offences Bill did not extend to Scotland. The Labour MP, Leo Abse would subsequently take up the Sexual Offences Bill as a Ten Minute Rule Bill in July.
"Today also marks the 50th anniversary of the Committee stage of the second of Lord Silkin's two Bills to make abortion more easily available. The debate can be seen
here
.
"The anti-life Labour Peer, Lord Silkin – the Sponsor David Steel's Medical Termination of Pregnancy Bill when it arrived in the House of Lords – had introduced his own legislation to make abortion more easily available during the 1965-66 Session. His first Bill was introduced on 11 November 1965 and was debated on Second Reading on 30 November 1965. An attempt by pro-life Peers to kill the Bill on Second Reading was defeated by 70 votes to 8. The debate can be seen
here
.
"The first Bill had been introduced at the start of the 1965-66 Session. Although that Bill had completed its passage through the House of Lords, there was no Parliamentary time available for it to proceed further in the House of Commons because the 1966 General Election intervened.
"Following the election, Lord Silkin reintroduced the Bill on 26 April. It was given an unopposed Second Reading on 10 May 1966."
The Society for the Protection of Unborn Children, the first pro-life group to be established anywhere in the world, began to be formed on 30th September 1966 when Elspeth Rhys-Williams (now Elspeth Chowdharay-Best) and Alan Smith (who remains a member of SPUC's Executive Committee and Council) had a letter published in The Church Times. They asked readers, wishing to oppose David Steel's abortion bill, to contact them at 47 Eaton Place, SW1, SPUC's first national address.
Both Elspeth and Alan will be attending the SPUC's 50th anniversary national conference from 23rd to 25th September 2016 in Derbyshire. Contact katherinehampton@spuc.org.uk if you are interested in attending and would like to receive full details.
Let's pray for David Steel today (now Lord Steel of Aikwood) and for the countless millions of victims of his Abortion Bill (mothers, fathers and children) which he made the decision 50 years ago today to introduce - as well as the victims of copycat abortion legislation subsequently introduced in so many countries worldwide.
Comments on this blog? Email them to
johnsmeaton@spuc.org.uk
Follow
SPUC on Twitter
Like
SPUC's Facebook Page